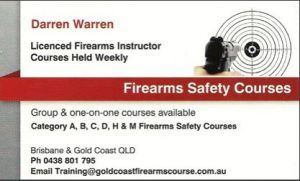 Currently we are conducting category A,B,C,D,H and M firearms safety training courses weekly with our fully qualified licenced trainers on the Gold Coast.
WE GAURANTEE TO HAVE A FIREARMS COURSE AT A DATE AND TIME TO SUITE YOU.
ALL OF OUR FIREARMS SAFETY COURSES ARE ALSO RECOGNISED IN NSW WHEN APPLYING FOR A FIREARMS LICENCE.
It is a requirement by Queensland Police that a potential Queensland Firearm Licence applicant must successfully complete the approved accredited Firearm Safety Course 30989QLD in the specific category of firearm for which the Firearm License will be sought. This Firearm Safety course must be delivered by a registered training organisation (RTO) Weapons safety courses for category A,B,C,D, H & M. As the most common courses are category A,B and H we have combined the three into one course. Each safety course is available 7 days a week and can be changed to meet individual requirments.
​Before commencing the course you will need to apply for a Unique Student Identification number. This can be obtained from www.usi.gov.au and takes approx 2 minutes to complete online.This is a requirment for all persons undertaking recognised training from the 1st January 2015. Please bring this number with you to the firearms safety training course you attend.
​
QLD Firearms Safety Courses on the Gold Coast are held every week in a group environment, or we can conduct one-on-one training at an extra cost as we understand that people in this day and age work odd times so we conduct firearms safety training to suite the individual. .
The statement of attainment required for your QLD weapons license is available 24 hours after the completion of the course.The course material can be emailed to you when you book in so you can study before the course, you can email or phone us from our contact us page for more details.
We are now holding evening Category A, B and H Firearms Safety Training Courses in the Gold Coast fortnightly, as well as our normal courses, refer to upcoming courses page for dates and times.
We will also assist you if you require to complete the application for your QLD Firearms license so that you do not have any problems with Weapons Licensing Branch by not completing the forms correctly. As the information you need to supply is different for a category A and B firearms license to a category H firearms license we will cover all relevent information required in the training course. If you need help with a permit to acquire a firearm we will also help with the process. Our services for this are offered at no charge.
The A,B and H gun course is conducted several times a week, please go to our Firearms Safety Course Dates page for details of all our Firearms Safety Courses.
We guarantee to complete the training and assessment once the student has commenced study in this course. Goto www.goldcoastfirearmscourse.com.au