NEED A PLACE TO HUNT ?
This course is offered by Gold Coast Firearms Courses on behalf of the NSW Department of Primary Industries. Finding it hard to find a property to hunt on. We can do your DPI Game Council NSW R Licence for you giving you access to hunt over 2 million hectares in NSW open to anyone living in Australia.
The course can be completed same day as your firearms course or you can book to do one of our weekly courses covering R LICENCE. These courses take approx 1 hour to complete.
PLEASE CALL ON 0438801795 to book a course in any or all the following categories of R Licence,
1; FIREARMS
2; DOGS
3; BOWS
4; BLACK POWDER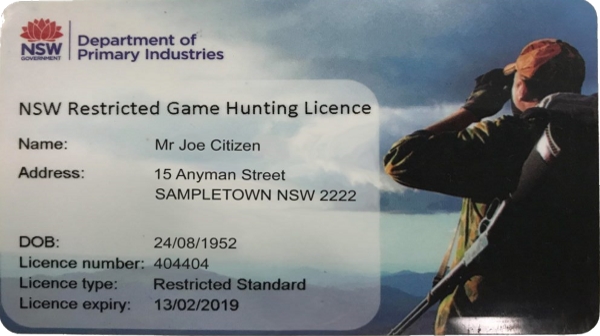 HUNTER EDUCATION HANDBOOK DOWNLOAD
NSW GAME HUNTING GUIDE DOWNLOAD
Changes to Deer Hunting in NSW
The law has changed in the way Deer may be hunted in NSW as of August 2019. It is up to the individual hunter to check these laws have not changed again or have been updated.
BOOK YOUR R-LICENCE COURSE
NSW Game Hunting Licence
In NSW, only game hunting licence holders have access to public land hunting opportunities, native game bird hunting and other game and pest animal management programs on public and some private land.
A NSW Game Hunting licence gets you:
$20 million public liability insurance cover (standard licence)
access to 2 million hectares of public land (Restricted Licence)
opportunity to take part in the Native Game Bird Management Program
access to specialised education and training opportunities through the Hunter Learning, Education and Accreditation Program(LEAP)
Applying for a Restricted Game Hunting Licence (R-Licence)
Requirements:
be over 12 years of age
be a member of an Approved Hunting Organisation (AHO) or you will need to join a club. Your shooting club most likely will be a hunting club already. If you are not sure call PH 0438801795 to check
complete the R-Licence Accreditation Course.
Supporting evidence:
Completed application form
R-Licence Accreditation From (from your assessment)
Proof of eligible minor or pensioner concession.
Lodging your application:
Your Hunter LEAP Trainer will give you all the paperwork you need to lodge your application. You need to apply directly with the Game Licensing unit. Use the Apply Online option if you are paying by credit card to receive your licence sooner.

DPI Link, Apply Online https://www.gamelicensing.nsw.gov.au/application/dbweb.asp?dbcgm=1&ac=gy&app=new

Game and Native Animals
http://www.dpi.nsw.gov.au/hunting/game-and-pests
Processing
Applications for NSW Game Hunting Licences are processed within 20 working days .
The 20-day processing period starts when your application is received by the Game Licensing Unit. The time frame does not include the time taken for your application to be delivered to us.
If you are missing documents or other information that we need to process your application, we will return it to you via normal postal delivery. The 20-day processing period is suspended when your application is sent back and resumes when we receive your revised application.
When we have processed and approved your application, we send it to our licence provider. The provider only prints Game Hunting Licences once a week.
The processing period ends when your licence has been sent from our licence provider.
We cannot estimate how long it will take for you will receive the licence after it is sent. Please allow extra time during peak periods.